You Are Not Prepared! (But You Will Be!)
The release date of The Burning Crusade has been announced! With the pre-patch arriving May 18, and the release happening on June 1, Classic Warcraft Logs is about to change significantly.
Click here to learn more about the upcoming changes to the site. Regardless of your choice, to move on to TBC or to stay on Classic Era forever, Warcraft Logs has you covered.
There are 3 open polls on the site right now. To participate, log in to your account, and the questions will be available on the front page.
Announcing the Warcraft Logs Companion
We're excited to announce the immediate beta release of the new Warcraft Logs Companion app. The app takes on the functionality of the Warcraft Logs Uploader and goes much further.
Upload your combat log. Analyze your raid. Improve your play. All in game.
The Warcraft Logs Companion allows players to upload combat logs from World of Warcraft, either live during play or after a dungeon or raid. The Warcraft Logs servers will then parse and analyze the log before making it viewable in game. No more tabbing out to view wipes, replay, and ranks.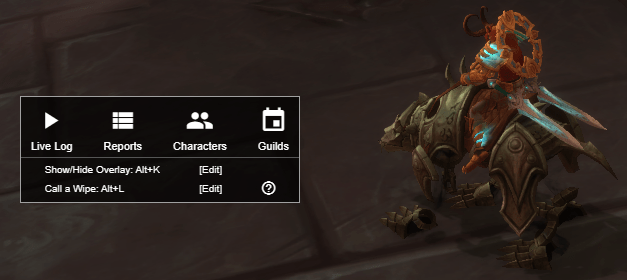 Intro
Willkommen bei Warcraft Logs, einer Webseite, auf der du Kämpfe aus Blizzards MMO World of Warcraft analysieren kannst. Zeichne deine Kämpfe auf, lade sie auf die Seite hoch und analysiere sie in Echtzeit. Finde heraus, was schiefgelaufen ist und wie sich du und deine Mitspieler verbessern können!
HOCHLADEN. ANALYSIEREN. VERBESSERN.
Become a Patron!
Unterstützen Sie uns auf Patreon!
Werde ein Abonnent für nur 1$/Monatlich. Als Abonnent ist die Seite Werbungsfrei. Warteschlangen für Rankings und Logs während der Spitzenzeiten gibt es nicht. Logs werden nicht mehr gelöscht. So lange wie das Abo besteht.


Schnelligkeit (Without World Buffs)
Schnelligkeit (Without Trash Skips)
Boss Damage (Restricted, DPS)
Boss/Trash Damage (Restricted, DPS)
Boss Damage (Restricted, Tank)
Heilung (Restricted, Healer)